We are excited to bring you and your children the gift of books. This free service is available for all children aged 0-5 years living in the Jesup School District. A new age-appropriate book will be mailed to your child every month, 8-10 weeks after enrollment, until they turn 5. Online enrollment can be found at
https://imaginationlibrary.com/
A special thank you to our sponsors for supporting this program: The Friends of the Jesup Public Library, Heartland Technology, Innovative Wealth Management, Jesup Paint & Autobody, Jesup Chamber of Commerce, Jesup Public Library Endowment Fund.
If you would like to donate to this amazing program, use this link
https://www.govpaynow.com/gps/user/cyg/plc/a003ke
. Please choose "Imagination Library" as the "Payment Type".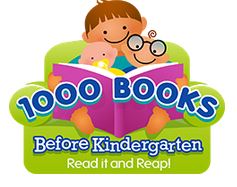 You are your child's first teacher and your home is where your child begins to learn. When you talk, sing, read, write, and play, you are helping your child get ready to read. Children who are read to at an early age will be better prepared to learn. The 1000 Books Before Kindergarten program at the Jesup Public Library is designed to be simple and encourage making reading a daily habit.
TO REGISTER for this program, simply stop by the library or sign up online at https://forms.gle/84znBRefcrY9zkDcA. Paper reading logs are available at the library or use the 1000 Books Before Kindergarten app, available in your app store or on iTunes. With the app, you simply scan the publisher barcode on the back of the book (the library barcode) to keep track of the books that you have read to your child. When your paper log is full, or you reach the 100 level on your phone app, stop by the library and your child will receive a prize for those 100 books; we will chart their completion of level one, and you will receive a new log with space to record the next 100 books. The program has no end date except your child's starting Kindergarten, so don't feel that you need to rush — but rather enjoy this experience! 1000 is not a magic number, just a fun goal for you and your child to reach!

Click on the image above to create your own account and find live tutoring sessions for homework assistance, utilize electronic flashcards, get a live review of papers you write for class (before you turn them in), and so much more!
Homework Help includes:
Live online tutoring for all learners
Patrons access real-time assistance through the intuitive Brainfuse online classroom. Brainfuse tutors are trained to not provide answers, but to help users master a problem's underlying academic concepts. Brainfuse offers tutoring and homework help services in Spanish for all subjects offered in English.
Expert writing guidance at every step
Patrons can access writing assistance in a way that works best for them. Through live writing help, patrons work in real-time with a tutor on brainstorming, revising, or more. Our intensive writing lab allows patrons to submit a paper to receive instructive and thoughtful analysis in 24 hours.
Academic and standardized test prep
SkillSurfer contains a comprehensive library of proprietary practice tests. When a user takes a SkillSurfer test, our system instantly prepares a skill-by-skill learning plan, including recommendations for targeted tutoring.
Learn more with lessons, videos, and tests
SkillSurfer is an extensive library of lessons, videos, and practice tests in a wide range of academic subjects, all created by the Brainfuse team. SkillSurfer includes state-aligned skills building, practice tests, college application assistance, ESL services, parent resources, and more.
Foundational and career-enhancing skills
Adult Learning Center is the adult learners' version of HelpNow. Patrons can access high school equivalency prep, US Citizenship test prep, resume assistance, and Microsoft Office support. The writing lab and skills building are also included in the Adult Learning Center.
Click on the brainfuse icon to access all these learning services and more...