We are excited to bring you and your children the gift of books. This free service is available for all children aged 0-5 years living in the Jesup School District. A new age-appropriate book will be mailed to your child every month, 8-10 weeks after enrollment, until they turn 5. Online enrollment can be found at
https://imaginationlibrary.com/
A special thank you to our sponsors for supporting this program: The Friends of the Jesup Public Library, Heartland Technology, Innovative Wealth Management, Jesup Paint & Autobody, Jesup Chamber of Commerce, Jesup Public Library Endowment Fund.
If you would like to donate to this amazing program, use this link
https://www.govpaynow.com/gps/user/cyg/plc/a003ke
. Please choose "Imagination Library" as the "Payment Type".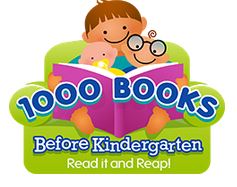 You are your child's first teacher and your home is where your child begins to learn. When you talk, sing, read, write, and play, you are helping your child get ready to read. Children who are read to at an early age will be better prepared to learn. The 1000 Books Before Kindergarten program at the Jesup Public Library is designed to be simple and encourage making reading a daily habit.
TO REGISTER for this program, simply stop by the library or sign up online at https://forms.gle/84znBRefcrY9zkDcA. Paper reading logs are available at the library or use the 1000 Books Before Kindergarten app, available in your app store or on iTunes. With the app, you simply scan the publisher barcode on the back of the book (the library barcode) to keep track of the books that you have read to your child. When your paper log is full, or you reach the 100 level on your phone app, stop by the library and your child will receive a prize for those 100 books; we will chart their completion of level one, and you will receive a new log with space to record the next 100 books. The program has no end date except your child's starting Kindergarten, so don't feel that you need to rush — but rather enjoy this experience! 1000 is not a magic number, just a fun goal for you and your child to reach!
Suggested websites for the younger set.
This site offers a variety that will appeal to preschool and younger elementary age children. Online and printable activities are available.

The "E-Quarium" site gives you a look at how one of the newest and most elaborate aquariums in the country works, learn about the effects of El Niño, and see how the sea otter population is being preserved.

A team of teachers have created this site of the best childrens books to help you quickly and easily find the ideal book for any topic and reading level. Just award winning, highly rated books are included.

This site for kids contains stories, poems, projects and games. Children will be having so much fun, they won't realize they're growing creatively and learning about everything from the alphabet to math to science. There's also a section for grownups. Stories, poetry, games, finger puppets, coloring, crafts, and songs.

Despite their small size, butterflies and moths are some of the World's most wondrous animals. Their beauty, seemingly miraculous metamorphosis, and apparently carefree flight all spark our imaginations.

Funbrain, created for kids ages preschool through grade 8, offers more than 100 fun, interactive games that develop skills in math, reading, and literacy.

Whether you are writing a report or planning a trip, this guide to the 50 US states is a great resource. It provides pictures of state symbols, statistical information and links to many other related sights.

DinoDictionary.com is your resource for hunting dinosaurs. With profiles of over 300 known dinosaurs, immerse yourself in a wealth of knowledge about the giants that roamed the earth so long ago!

Fans of Marc Brown's favorite aardvark will enjoy this site!

Books, drawing and activities for kids.

Free online childrens books from around the world.

If you're a Nick watcher, checkout this site for some of your favorites.

Website with games and more, focused on PBS programming for children.

Games, puzzles and information on Scholastic titles.

Screen actors guild foundation members read childrens books aloud via streaming video.

This group gives a book to a charity you pick when you sign up and read a book. The more books you read online, the more books to the charity of your choice.